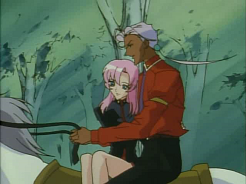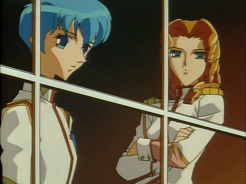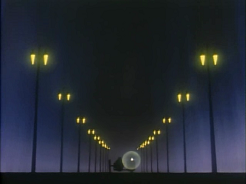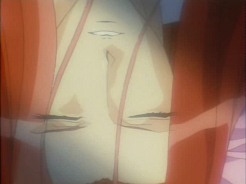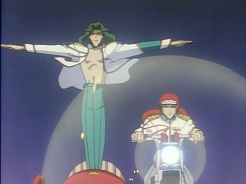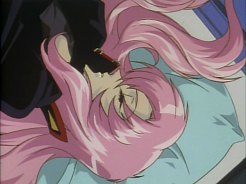 WHAT. AN. INCREDIBLE. EPISODE!!!
Oh my god… I knew that this was supposed to be the end of the Touga-arc, but I never could have imagined the awesomeness it contained. First of all, they give a very nice variation to the car-theme, by suddenly showing up in a motorcycle with a side-car. Akio entirely stays out of the picture in this episode, and the only times he gets mentioned are when people talk or think about him. This alone made it into such an incredible episode, but I NEVER could have imagined to actually feel sorry for Touga. Firstly, he ACTUALLY confesses his love for Utena. Then we get to see his reason for duelling her. Really, if I were to see this after episode 10, I would not have believed it. I can hardly believe it even at this time.
Anywya, he and Sayonji make some plans, which actually made me dislike Utena more and more. Especially because of the mistrust she puts in Touga, even after all this. In the end, when the battle began, I actually chose sides for Sayonji and Touga. Which has probably been a first time ever.
Speaking of the devil, eh… battle. It was AWESOME! I so kept hoping for Utena to lose. But then again, after Touga's reasons were revealed, how couldn't I? The cars may have been a bit too much this time, especially after being followed up by the motorcycle, but the climax was great. Also the beginning of the battle had me glued to the screen. The elegance of all of the characters only added up to the awesomeness. The aftermath was amazing. I am SO wondering what will become of them in the last couple of episodes. Actually, I'm curious about every single one of the side characters. They all got their place in the spotlight. Only Utena, Akio, Himemiya and the Prince remain to have a conflict. What will the side characters do!?!
And if even this wasn't enough, the cliffhanger of this episode just blew me off my chair. Okay, it had it coming for a long while, but still… OMG!
Overall, this was probably the best Utena-episode yet. I'm really dying to find out what the last couple of episodes will be about.