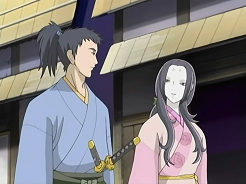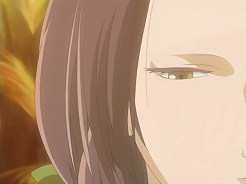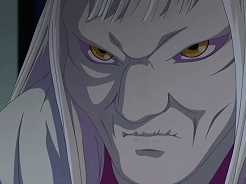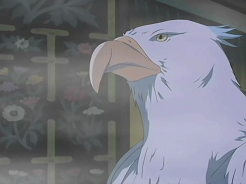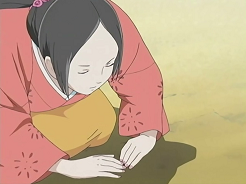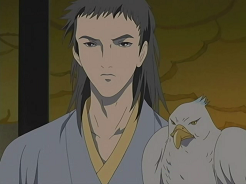 This tale somehow manages to keep getting better and more beautiful by the minute. Okay, the "Horror"-part is still drifting in oblivion, but this certainly is one of the better love stories in anime. All tensions are rising high, and it seems that everything is ready now for a big climax.
We start with the guy, whose name appears to be Zusho-no-Suke (no wonder I couldn't remember it. I'll call him Zusho for the time being), and Tomi Hime have a little fun in the human town. Then the old woman finds them, and begs Tomi Hime to return. Once they do, it becomes clear that she has a very good reason to be against Tomi Hime's feelings. Her love for Zusho caused the Forgotten Gods to weaken. In other words, making them mortal again. Tomi Hime then forces Zusho to leave her alone.
Zusho leaves the castle, and suddenly the other woman comes running up to him. The two end up marrying, though Zusho still thinks of Tomi Hime. When the woman finds out about this, she manages to make the landlord decide to attack the Forgotten God-castle. Of course, with them weakened like that, this will turn out to be quite interesting.
Anyway, Zusho finally can't hide his feelings anymore, so he abandons the woman and heads back to the castle. In there, they see the torches belonging to the regional army rising. This will make for an awesome climax in the fourth episode. I can hardly wait to see it.