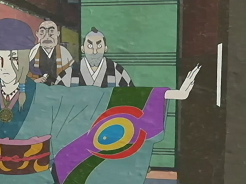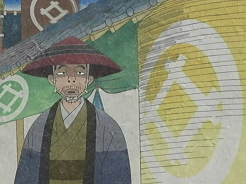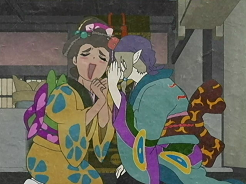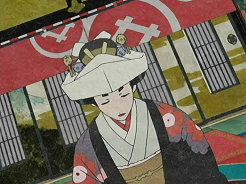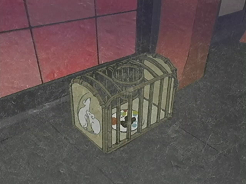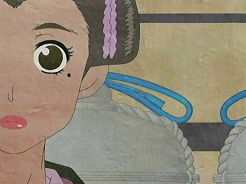 Today, we start with the third and last part of Ayakashi: Bake Neko (I'm really forcing myself not to misread it as Baka Neko). And again, it feels like we're in a total different anime. The funny thing is, that the impact is even bigger than with Ten Shu Mono Gatari. And again, Bake Neko has some unique features. Yotsuya Kaidan had the incredible murders, Ten Shu Mono Gatari had its great love story. Bake Neko, however, is just crazy. And that has to say something, especially when compared to Yotsuya Kaidan.
The first thing that comes to the eye is the once more changed character art. Yotsuya Kaidan had ugly characters. Ten Shu Mono Gatari had elegant-looking characters. Bake Neko has hilarious looking characters. Especially the minor characters just look like they had to suffer from the horrors of overbudgetting, ending up with a continuously idiotic look.
That's not all. Also the dialogue just screams chaos. While Yotsuya Kaidan's dialogue was based on history, Ten Shu Mono Gatari tried to be as romantic as possible, Bake Neko just uses fast-paced dialogue combined with characters being weird, and combines it to something that actually ends up pretty enjoyable.
Anyway, about the story of Bake Neko: I like it. I really like it. This might be the best of the three. We have this demon, who's busy assaulting a rich family, consisting of a grandfather, a father, a mother, a daughter, an uncle, two or three bodyguards and a bunch of servants. He already killed the daughter and one of the servants, and if it weren't for a medicine seller who happens to know exorcism, the entire house would have been demolished.
In order for the medicine seller to be able to kill the demon, three things must be known: Katachi, Makoto and Kotowari: the form the demon takes, what is really going on, and the events that made the demon act the way he did. Katachi is immediately clear: this is a case of Bake Neko (hence the title). The merchant needs the members of the house in order to be able to determine Makoto, after which the episode ends. My guess is that the rest of the episodes will deal with the merchant figuring out what happened, accompanied by a couple of nice deaths. I also like the way that especially the uncle seems to be hiding something, though my favourite character still is the assistant bodyguard. He's just so ignorant.