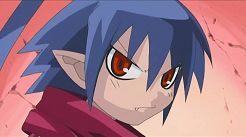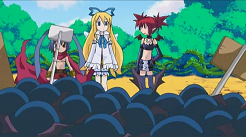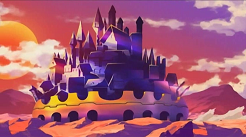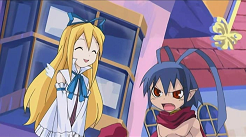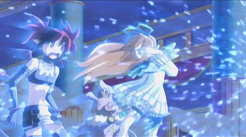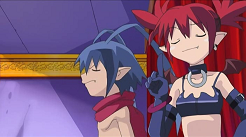 This anime definately could have been executed better. The first two episodes showed potential, though the third and fourth episode clearly show that this is an anime for little kids. Still, I have to say that this episode featured parts that I really enjoyed.
One thing that this anime does exceptionally well, are the running jokes, or however you call the jokes that keep returning. I'm referring to Etna's struggles to keep Laharl away from his wanted-poster. Occasionally, our group runs into one of these things, and each time she has to make up some kind of excuse in order to keep him away from these posters, with some very funny and enjoyable results.
In this episode, it became clear that Laharl's father's butler took over while he was asleep, though Laharl's father's butler's son has reached a rebellious age, and wants more attention from his father. Thus, he sells the book which is sortof like the symbol of being king, to an old junk-seller, who sells it again to our space-adventures. I don't think they'll be keeping it for long, but still. This storytelling kindof reminds me of the troubadours in the medieval period. They were travelling storytellers, who lived by telling stories to important people. Each day, he'd tell one part of the story, and meanwhile, he got to stay in the castle. So, in order to be smart, the troubadours kept extending their stories. The first day, the brave knight had to rescue a princess. The second day, it became clear that in order to save the princess, he had to rescue a dragon, but the third night told of a sword which was needed to defeat the dragon, and so on, and so on. When the tensions began to rise, or the story just began to take too long so that people began to get tired of him, the troubadour would quickly end all of these sub-stories, and leave the castle.
Somehow, I was reminded of this concept while watching Disgaea. Laharl wants to become king, but in order to become king, he has to defeat the current king, now this current king is defeated, it suddenly appears that he needs a book. I see that it's not exactly the same as described above, but it certainly bears resemblances. I think this cat-and-mouse-game will continue untill the end of the series. Still, with a bit of luck, I'm going to be finishing it. I know that once this anime tries, it can do good, and I still love the art.