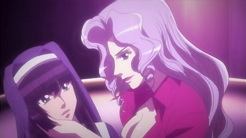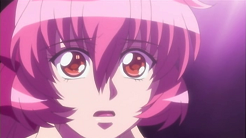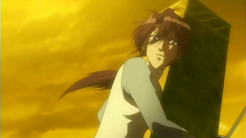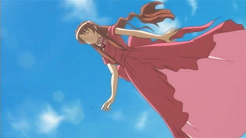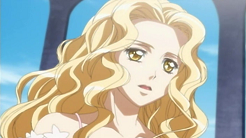 We now continue with the fifth of thirteen episodes of Good Witch of the West. I was surprised at first when I found this number, as I assumed that there would be something along the lines of 24 episodes. Still, it does explain why the pacing has been so huge, it has less time than other anime to tell its story, so there'll be no room for fillers. I'll be curious about how this will turn out to be. So far, Good Witch of the West is heading in a very good direction.
The Secret-Garden arc ends here, its main goal was to introduce a number of important characters, the main villain among them, and to teach Firiel the things she needs to know about swordfighting. I'm not too happy about the skimpy outfits worn by some of the evil characters, a wrong decision by the creators. The plot twist was amazing. You knew it was coming some time, but at the time it finally comes, it's totally unexpectable. It's also very good to see that there's another third party, who aims to oppose both the good and the evil side. It adds such a nice twist.
Sister Lain invites Roux over to her place again, Roux heads off, and Firiel finds the invitation letter on his desk. Naturally, she gets angry. At the meeting place, Roux gets greeted by the student council, along with Sister Lain herself. She then tries to seduce Roux, while attempting to make him talk about the Ephemeris. She then reveals that she oversees the Snake Rod (the ones that gave Roux his scars), and that she actually only lets them live because they might be useful to her. There was a lot of vague dialogue in this scene, so I didn't manage to pick up everything. What I do know is that Lain is actually Leandra, Adale's rival for queenship. She snuk into the Secret Garden for some kind of strange reason we still don't know. Firiel reveals this, as she barges into the room, worried for Roux. Her argument is her inutition, something which surprises Leandra.
The two parties make a deal. As Roux needs to keep his manhood a secret, and Leandra wouldn't profit from being found out, the two parties agree to keep each other's secret. Leandra then puts a little extra stakes on the battle versus Ravenna: when Firiel wins, Roux won't be harmed, when she loses, he'll be Leandra's posession. Roux is still absent-minded about thse things, and Firiel scolds him. It really seems that both of them are careless, in their own unique ways, and both of them need to remind each other that they are.
Anyway, this keeps haunting Firiel, and she begins to linger a bit during her training (at which she begins to have more and more fans and admirers, which is really awesome). Igraine tries to talk her out of it, though she doesn't manage to do this for a hundred percent. Vincent then brings the news that the duel is only one night away. Igraine and Firiel spend the evening for a bit of very extensive training, which was supposed to make her ready for the swordfight. They do this in a special place in the academy, a very romantic one: a terrace, at a high place on the castle. After this training, Firiel promises to fight to her full extend. Roux also takes her to this place during the night, with the excuse of some shooting stars which will be able to be visible. This turns into a very romantic opportunity for the both of them. Another thing Good Witch of the West is extremely good at: the love-scenes. These will be great for every fangirl and fanboy, I totally love them.
Another interesting issue is that Ravenna actually gets a personality in this episode. She's no more just an evil 1-dimensional character. This became clear first after the scene with her, Roux and Leandra. She just stood a bit helpless next to the two of them, unable to do something worthwile. The duel just increased this fact.
Anyway, the next day, it seems that someone has been sending Firiel some threat letters. She immediately suspects Leandra for doing that, though it appears that there's another third party involved. Someone who's against both Firiel and the student council.
Then the duel begins, and it's awesome. First of all, it appears that Ravenna also got threat letters. Second of all: finally, we have fight again. Do you honestly think, that your first serious fight would be a piece of cake? Do you think that you'll be able to give everything you have in order to win? No. Of course not. Everyone sucks at his or her first fight. I experienced this myself. I practice martial arts myself, and I entered a tournament once. In my opinion, pretty decent, but during that tournament my actions were totally horrible. Firiel is the same. Nerves take over, and she's not able to do her best at all. She eventually manages to win because somebody in the audience uses a mirror in order to blind her, giving Firiel the chance she needs.
This brings up another interesting issue. When bad guys do this, it's a dirty trick. The bad guys have to be punished, and nobody likes them. When a good guy cheats, everything seems to be allowed, just because the good guys are so awesome. You see that a lot in anime. Good Witch of the West gives a nice twist to this, but I'll get to that later.
First, there comes the plot twist I talked about earlier. From the point that Firiel beat Ravenna, everything happened so fast, I really had trouble following everything. For starters: apparently, Firiel gets to be blessed by some kind of "princess". First time I heard that. Anyway, the princess comes, and when she's about to give her blessings, the princes grabs her own sword and throws Firiel to the ground. Remember Cisaria from episode three? Guess who this certain princess is. Cisaria then admits to have been the one to send all of the threatening letters, and the one who killed Roselitte. She then holds a monologue about her motives, ending in an attempt of suicide. Roux manages to stop her. These were a couple of amazing scenes. Especially the background, and use of scenery turned this into a feast for the senses, not to mention the twisted ideas of Cisaria, and the fact that Ravenna also is on her bad side.
Roux then reveals that he only came to this school because he wanted to stop the one after Firiel's life. His mission is finished, so he prepares to leave. But not until Ravenna unleashes her anger upon him, by suspecting him to be the one with the mirror. To be honest, I also believed this in the first place. However, we never see who actually did it. It could've been someone totally different. But who? And why was this person so determined to go through such lengths in order to make Firiel win? Anyway, Roux gets unmasked as a boy, and he eventually manages to get saved by Adale, who appears to have been waiting for this duel in order to unassign the Student Council. This ends the Secret Garden-arc, Roux leaves in a way which will certainly please all of the fangirls out there, and we later see Firiel, Adale and Marie in a carriage, suggesting that Firiel's abut to leave the academy as well. Leandra, meanwhile, isn't too happy with Adale's actions, and gets even more motivation to carry out her evil plans.
I'm pretty sure that this anime'll reawaken my inner-fanboy. After all, this anime really seems to focus on fangirls/fanboys, rather than otaku's (with the exception of Leandra, unfortunately). I currently totally love the art, it's among the best ever. The dialogue may be a bit too vague, but it does work. Especially if you combine it with the incredible music which accompanies Good Witch of the West. The story hasn't been amazing so far, though I'm pretty confident.