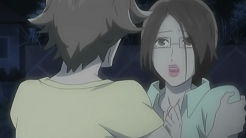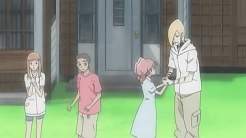 Noein suddenly accomplished the impossible: it surpassed itself. This episode was utterly, utterly incredible. It focuses around Isami, Ai and Miho as they grow up, and also gives some hints towards what made them change towards Fukurou, Kosagi and Amamuki. As always, it'll be very difficult to give a good summary of Noein, as there are tons of things happening at tons of different places at tons of different times and tons of different timespaces with tons of different characters.
Before I continue, I have to make a very embarrassing confession. I actually cried during this episode. I almost never cry. Up till today, only Full Moon wa Sagashite managed this, and now Noein comes and just accomplishes this like it's nothing!
Anyway, Noein, in order to attempt to win her for him, shows Haruka one of the possible futures for her friends. Believe me, it isn't going to be pretty. Everything starts with Isami's grandmother who died. As his parents died before, they have nobody to take care of them, so a distant relative came up and offered his help. This means that Isami and Ai had to be separated. Ai also grew away from Miho. Back in Shangri'La, Atori refuses to go out, while Miho makes him do it. He was just so adorible when he listened to her. Just compare this to the Atori of the beginning of the series.
Miho, Isami and Ai meanwhile are already attending highschool. Miho's combination of having weird ideas and being rich doesn't fare her too well, as she gets bullied in a horrible way. She doesn't have any friends at all, and people are openly making fun of her. It was just too sad to see her, locked up in a toilet, and seeing the once so cheerful Miho suddenly victim of one of the pranks of her fellow classmates again. This is probably what turned her into the cold-hearted Kosagi.
Isami doesn't have any better luck. He grows up to be a true delinquent, hitting people for fun, stealing money, the usual. He's totally forgotten about his love for Ai. When she meets him, she tries to talk to him, but he then begins shouting at her. This is probably what turned him into the kind-hearted, though determined Fukurou. These were also great scenes to make the strange use of graphics stand out to their best. The messy art really added up to the scenes at which Isami kept kicking another one of his victims.
Back in the current timespace, things aren't going too well either. Firstly, Haruka's mother comes back, and suddenly sees that her entire house is gone. Of course, she freaks out and goes to Yuu's mother, who manages to calm her a bit. An amazing scene again, the reactions also totally fitted.
The great big jerk is at the verge of putting his experiments to the test, at the major displeasure of Haruka's father. Kosagi, Uchida, Kooriyama and Tobi are on a mission to try and stop them. This will probably be their final goal for the scenes, as the great big jerk has absolutely nothing to do with Haruka, directly.
Yuu and Karasu aren't doing a lot during this episode. They mostly spend their airtime getting to Haruka. As Shangri'La is a timespace full of incoherences, the two of them must have an iron will to save Haruka, instead of iron feet. At the end of the episode, it becomes clear that Yuu'll be the one to protect her, as he gets to be the one teleported. I wonder what the final role of Karasu might be. He still needs to do something over the last two episodes.
Back to Miho. Things get even worse, when she eventually locks herself up in her room, for two whole weeks. When her mother finally manages to get her to open her door, it appears that all of the psychological strain caused her amnesia. I've said it somewhere before on this blog, but I'm an incredible sucker for stories featuring memory loss. This made me absolutely love this moment.
But wait, there's more. Isami and his gang get into a fight with another gang. The other gang is no match for them, but then one of them comes with a knife. He's frozen with fear, but when Isami gets too close in order to stop one of his gangmates from doing something stupid, the guy with the knife charges, and manages to cut out one of Isami's eyes. This explains Fukurou's scar. More importantly, this is when Isami begins to realize what a jerk he has been, and he begins to hate himself. His gang-members run away, and he's left all alone. Can it truly get any better?
Certainly! Ai still practices football. Then, she hears about Isami and tries to rush towards his house. Then, her knee begins to act weird, and she falls down with pain. When she gets to the hospital, the doctors give her the news that if she doesn't amputate her leg, she'll die within three months. Three friggin' months! Besides this scene explaining why Amamuki doesn't take part of any action, it was one of the best ever!
Things get even better when Miho attempts to take in an overdose of pills, Ai attempts to jump off a building, and Isami attempts to kill the one who took out his eye. Haruka, as she's been watching this for all this time, can't bear any more of it. Her thoughts reach Yuu, and he jumps to Isami, stopping him, and telling him to meet Ai. Miho is saved by Atori, who managed to show up, and the teenage Isami is the one who makes up with Ai. Best. Scenes. Ever.
Noein only strenthens this effect by showing his face for the very first time. He keeps trying to get into Haruka's mind, by reminding her that Yuu was the one who didn't manage to recover from his miseries, unlike Ai, Isami and Miho. It seems that Haruka's death was just too much for him, and it turned him into Noein. So, what was the difference between Noein and Karasu? Why did Noein change, while Karasu didn't?
Overall, this episode was just totally incredible. The best episode of Noein yet. I'd gotten a bit demotivated from the inconsistent releases, though this episode really reminded me why Noein is one of the best anime ever. Period.