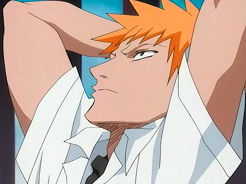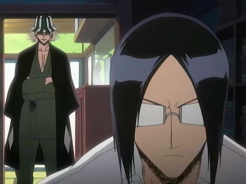 After last week, the series focuses on the main story of the fillers again. Jin reveals why he did everything. The mosquitos can suck up a living human's soul, purify it and somehow make the same amount of spirit power ten times more powerful. Now that I'm typing this, I'm realizing something. Human souls are naturally impure? Then what do the mosquitos do in order to purify it? Well, because they're damn handy plot devices and give Jin a nice and easy way to be evil so that the creators wouldn't have to use their brains in order to find a good motive for him.
Then, something seemingly worthwile happens, though Bleach managed to screw it over in such a way that it becomes horrible again: one of the Bounto is having his doubts, and stands up to Jin. He mentions the case of the old man, who became so old because he used to absorb a lot of human souls in the past. (Actually, why isn't this guy stronger than Jin?) Of course, Jin quickly changes this guy's mind by feeding him the liquid from the mosquitos, turning him hungry for power again. Not only did the creators waste a valuable chance for a good plot, they also signed their own funeral. I mean, every ape can tell now that Jin will become more and more obsessed with power, until he takes too much and explodes, or something like that. I can't bear the thought of having to witness these scenes for another ten episodes.
Still, two worthwile things happened at this episode. The first, and most important one, is the conversation between Nova and Sado. Pure brilliance. The second thing is Ishida, the only one who managed to turn the filler-plot up a bit. He's love-sick, of course, and he, again, goes out. This should at least provide some worthwile scenes, should it?