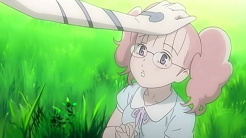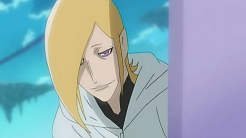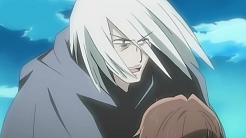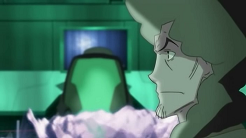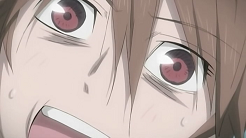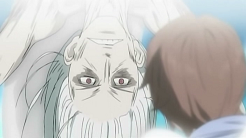 Okay, I could almost scream at the end of this episode. That was such an incredible cliffhanger. In fact, the entire episode was incredible. Noein finally shows his real body, and that was just absolutely freaky. It's the same Karasu, but incredibly pale and skinny. His acting turned this into something totally magnificent.
He also reveals what turned him into Noein. Apparently, his old teacher, Haruka, Isami, Ai and himself got in a car crash, and he was the only one to survive, and see his friends dying in front of his eyes. They were seventeen at that point, which means that it was a very fragile age for Yuu. He couldn't bear the fact that he's lost his friends, so he started travelling through dimensions. The only things that he noticed just consisted of sorrow and pain. He was just oblivious for the peace and happiness that went on. That made him decide to turn all of the timespaces into one Shangri'La. He gathered some power, and started preparing his plans. (interesting note: Miho was not inside the car. Did she have any influence on what happened afterwards?)
I remember that a while ago, I stated that the creators probably wouldn't focus around Atori's past. Boy, was I wrong. At the beginning of the episode, the creators just found enough time to show a bit of it, and it's incredible. In a certain way, Atori is just like Noein. He saw his sister dying, right in front of his eyes. The fact that he ends up with only one arm of her left only makes this better and better. A thing like that really breaks you, and that was indeed the thing that turned Atori in his evil self from the first couple of episodes. However, after he met up with Miho, he began to change again. He just needed somebody who cared for him, which is the same thing with Noein. I'm wondering how it'll end up. Will Noein be destroyed in the end, or will he cease his attempts to create Shangri'La? Or both?
In any case, Atori is just an amazing character. Miho really made him to stop care about himself, but yet, he didn't lose his entire personality. He's still gloomy and cold, but when he sees Miho, he really wants to change himself. So awesome. In any case, he hasn't shown up at the latter half of the episode, so he'll probably come with a big finish in the end. Isami, Ai and Miho are meanwhile sent back to their own dimension. And I loved Haruka's mother at that point. It's, of course, incredibly hard to predict how someone will react when their entire house has disappeared, along with your daughter, though the creators managed to execute this perfectly.
Karasu had a bit of an expected part. Yuu gets to be the one who'll save Haruka, of course, so they need something to distract him in order to give Yuu the opportunity to go to Haruka alone. So, the creators send a couple of monsters in order to kill them. Still, the fight that Karasu had afterwards was totally awesome. If not for the extremely messy animation.
Back in the normal world, meanwhile, the great big jerk carries out his plans, and we get to see the results in the next episode. What happened before was Haruka's father opening up a few security holes for Kosagi, Uchida, Kooriyama and Tobi in order for them to be able to infiltrate the great big jerk's ship. Kosagi and Tobi, meanwhile, begin to lose their existance, and so, they're being left behind. When they arrive at the main control room, the great big jerk only gets worse, when he actually shoots Kooriyama, and threatens all of the other crew on board. Even Haruka's father can't do anything against it. Still, I absolutely love the fact that the children are fighting their fight, while the grown-ups are also fighting their on fight. You can notice so many subtle differences. (Interesting note: what happened to Tobi and Kosagi? You surely can not tell me that they've finished playing their parts in this anime).
Haruka and Yuu were totally adorable. They make such a good couple. Noein also gets scarier and scarier by the minute. Though what really got to me is the fact that Haruka actually showed sympathy for Noein. Not only in the awesome cliffhanger, but Noein also holds some kind of monologue about how he was abandoned. I could be wrong, but when he told about his history and his suffering, I think he was looking for attention. And indeed, Noein is a lonely being. An extremely lonely being. He really longs to be able to socialize a bit. Though this longing really did something with his mind, and instead, he's not planning to create a humanless society, making himself only lonelier than he already is. If that was even possible.
Still, we're at the last episode, and as far as I know, there are two questions remaining: who the heck is the old guy who seems to be in every single dimension that Haruka visits. And what was the meaning of the phone? La'Cryma seems to be destroyed now, as we see the council collapse during this episodes. This makes you wonder what happened to Amamuki and Kosagi's daughter. Overall, this has been an amazing episode. It wasn't as great as episode 22, but it sure does come close!