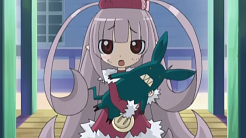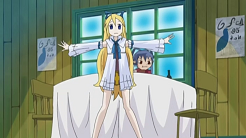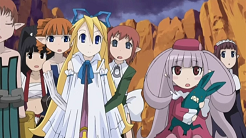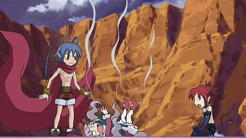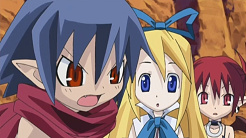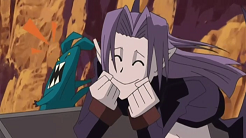 This episode managed to deliver the same hate/love-relationship that we've gotten used to. Laharl runs into a little girl who pretends that she's his little sister. In order to unmask the girl, Laharl tries to make her feel comfortable, and that's where the episode blunders. Laharl either is an incredibly good actor, or his actions were a bit too sincere… Everything revolving around the two of them trying to fool each other was just too much over the top. The ten minutes that it took up could easily have been turned into one.
Still, that doesn't mean that I didn't enjoy the rest of the series. Especially the climax was brilliant. I've never seen such a brilliant use of a Deus ex Machina since Brian fell off a tower and got saved by aliens. (cookie for those who can identify the reference) Etna's sarcastical view and Flonne's continous preaching and brilliant voice acting also really helped, and don't forget the oh so wrong crossdressing of the male captain.
The story in this episode also was pretty well written. There was nothing wrong with the motives of the bad guys, and it seemed that they indeed prepared a lot. The only things wrong with the episode were the fact that Laharl just randomly wandered in without a reason, and the illogical acting of some of the characters.