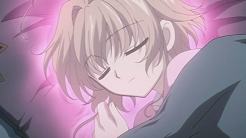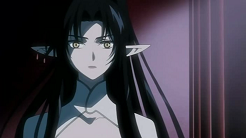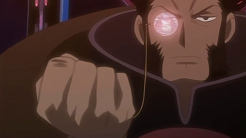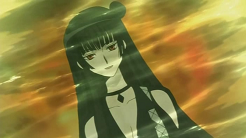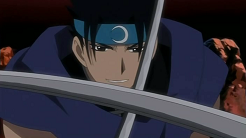 Last season, the pacing was slow. You'd expect the show to continue this slow pacing in the first season, but instead, it suddenly speeds up. So many things happened during this episode. And even the main plot plays a huge role in this. I haven't read the manga, though I doubt that things were the same at the manga-arc. Hopeless also noted that Fei Wong did not have a great role int he manga at this point, though right here, his role gets bigger and bigger.
Okay, so what happened during this episode regarding the main plot? First of all: Sakura kissing Syaoran on his glass eye. The two of them were just so cute at that moment! The thing I do like about Tsubasa Chronicle is that the relationship between the two of them gets tighter during every manga arc.
Second of all, it appears that Syaoran indeed is special in some kind of way. We probably won't hear in what way he is until the second half of the third season has passed, but it indeed has something to do with the fake Syaoran with his eye concealed. This fake Syaoran can control the real Syaoran's movements, it seems. It seems that the two of them are like mirrors. The anime seems to be giving some very obvious hints towards this.
Third of all, we also learn that Yuuko contacted Ashura, and then she informed her about Syaoran and Sakura. This explains her hospitality. It was her who then offered Yuuko the elixir of eternal life, which gave Yuuko the opportunity to make Mokona do a forced transfer. For some reason, this also caused Fei Wong's control of the worlds which are to be visited to stop. For some reason, Yuuko really wants to stop him.
Fourth of all, we finally learns some of Fei Wong's intentions. There is this thing, buried in the ruins of the Clow-Country. That's what they're after. For some reason, Syaoran and Sakura have to work for this. The last episode of the first season showed that they don't want them to find all of the feathers at once. Still, I don't think that we'll ever find the reasons for this. Unless the creators decide to end this anime after the third season.
In any case, Fei Wong realized that the Dimensional Witch is the culprit behind the fact that he can't direct the worlds that Syaoran & co visit, so he's taken preparations to defeat her. (Interesting note: will this come back in xxxHolic? I suspect not, but it'd be awesome if it were). What follows is his statement that Yuuko is the only woman who managed to use the magic that Clow Reed accepted. Clow Reed appears to be Fei Wong's lineage. Does that make Fei Wong and Sakura family? This statement was a bit fuzzy, though I think this means that Fei Wong, his minions and Yuuko are the only ones who can travel dimensions. Though then Fei Wong claims that he'll be the one to grab the power to cross dimensions. But why does he want to do that when he already has the power to do so? (Interesting note: this is the first time we see his assistant smiling).
About the arc: it didn't make any sense. Why the heck have Ashura and Yasha been fighting, and why did they both show up without an army? Ah well, in any case, it seems that in the past, the two of them were dueling in the castle, and Ashura gave Yasha a scar on his eye. Later, the Yasha appeared in front of Ashura, outside of the castle. Then she realizes that something has happened to Yasha. They end up kissing, and a feather flies by. My theory is that this feather then attached itself to Yasha, in order to keep him alive. At the end of the episode, Ashura kisses Yasha once more, the feather separates and he disappears. Still, it was just a wound on his eye. That's nothing you'd die from…
Some other unanswered questions about this arc:
– Where are Kurogane and Fye?
– When Mokona pointed out the strongest power source, she pointed towards the castle. Yasha wasn't there at that time, while he posessed the feather. What could there be stronger than one of Sakura's feathers?
– Why was Yasha's statue crying, while Ashura's wasn't?