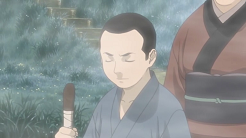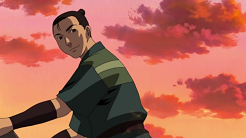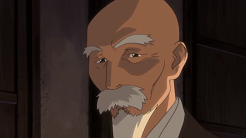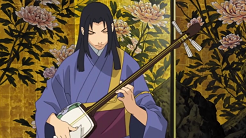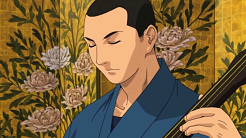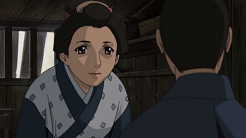 Nitaboh is a historical movie. It plays in Japan, from 1865 till about 1875. Japan is gradually getting more and more american influences. The movie follows the rise of Nitaboh (hence the movie's name). Nitaboh became blind when he was eight years old, due to an epidemic. Ever since, he's been enjoying things that make sounds. When he, three years later, gets into contact with a shamisen (a three-stringed japanese guitar. Mostly played by blind people. Think Samurai Champloo 20 and 21), he decides to be a great shamisen-player. Because of his hard work, he manages this in the end.
This movie is ninety minutes long. After watching it, I had a good feeling about it. Some great and inspirational scenes are featured. Some of the tunes are surprisingly good. Both the shamisen-tunes as the regular background tunes. Seeing Nitaboh train hard, even when suffering works really inspirational. His friends also add up to this fact. The characters are really likeable. Still, there's one big issue with this movie: it's slow. Very slow. This makes most of the scenes in this movies very boring. But the few good scenes become great due to this effect.
The art looked a bit messy at times, though through the major part of the movie, it looked very crisp. Especially the very few action scenes it featured came out great. Still, when people played shamisen, their movements still didn't look right. It's something no anime has yet to accomplish: showing expert musicians playing their instruments. They always smuggle, making everything look unnatural. Nitaboh gives a good attempt, but the movements of the musicians' hands is too fast and too unnatural.
Overall, this movie is good, but it didn't feel like it was worth the time it took. If you're really bored you could check this out, but most of the anime is just a bit too slow. But that's the case with most historical anime.