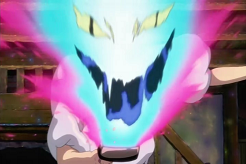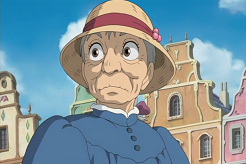 I decided to check out this anime, which aired in 2004, as it's another one of Ghibli's works. I have to say, it was pretty interesting and unique. Though, unfortunately, not memorable.
The movie is mostly a love story, between an ordinary young woman who makes hats as her profession and a strange, evil wizard. While this may sound cheesy, about ten minutes in the movie a twist happens you so wouldn't expect. Starting from that point, the "woman" gets to live with the evil wizard, she gets to know him, she gets to know his dark secret and in the end, she attempts to save him.
This movie is a massive two hours long, and manages to fill this time perfectly. There are almost no chances to get bored, as there's always something happening on the screen. Each of the characters also acts very naturally, nothing seems to feel rushed. The world in which the movie plays also looks amazing and full of imagination.
Still, despite its originality, the movie does remain cheesy in the end. The minor plot sequences are very imaginative, though the major plotline has a lot of bugs. A lot of things also don't make any sense at all. The two main characters' cases also don't get explained at all. Especially the ending left me with a bad feeling.
The graphics also are an interesting issue. While they do look amazing, Spirited Away, which was produced three years earlier, looked much better for some reason. You would expect the opposite, as both movies come from the same studio. The music, while not memorable, remains very fitting and enjoyable.
Overall, I've always wanted to watch Howl's Moving Castle, though I never knew what to expect. I'm pretty happy with the outcome, though it could have been done much better. If you want to see a good movie, I'd suggest to check out Nausicaa or Spirited Away first.