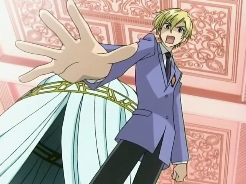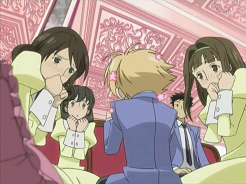 Ouran is a high-school comedy-drama with a twist: the school this anime takes place in is only for the children of the richest parents in Japan. It's meant for those children who are able to spend a huge amount of money. The only way for non-rich people to get in the school is to have exceptionally good grades.
Well then, for some reason, rich people don't have to do any homework, so they huge amounts of time to spend. This anime is about the Host Club of this school. It's basically a way for the rich people to spend their time. The club consists out of a group of bishounen, who all entertain the ladies who come to the host club. Then, a female, pretending to be a male joins the club, and the anime starts.
Ouran's strength is its novelty. The bad thing is that it doesn't seem to realize this. I'm afraid to say it, but most of the episodes, this anime just keeps milking on old concepts they already tried, up to the point at which things just become incredibly boring. An example of this is our main character's sarcasm. When this gets used in the first episode, it's funny. Same in the second episode. But when she reacts the same way in over twenty episodes, the fun quickly dies. It's a darn shame, as the episodes which introduce new things really worked out. Both in comedy as in drama.
You can really see this in the episodes in which one or two particular characters stand in the spotlights. All these episodes basically to is retell things from other episodes, only a bit changed and twisted in order to make them look unique. It's also strange that the annoying characters get three or four episodes for themselves, while another character doesn't get even half of an episode. Still, this made the latter one of the better characters.
Still, I have to admit, in terms of character development, the characters of Ouran are very fleshed out. The episodes do give characters the chance of showing their unique cases, and later in the series, you can spot the changes. While this does look boring the moment when you see it, the overall picture that this gives is impressive.
Like I said, some of the characters are unique. Others, however, do not fit in this anime. The image of a small, cute, cuddly child who happens to be the strongest master of martial arts on the planet was just too forced. I also didn't like the fact that being the richest also automatically means being the strongest, smartest, best, or any other superior element. The creators also didn't really attempt to deviate from this, apart from having a main character who's poor. But even then there's no emphasis put on this, which is a shame, as it's an interesting subject.
Overall, Ouran did have its very good moments. Some episodes were just hilarious. It's just too bad that these good episodes were surrounded by bad episodes. Still, it remains a fairly good comedy, and the drama aspects were fine. It'll be a fine watch, although boring at times.