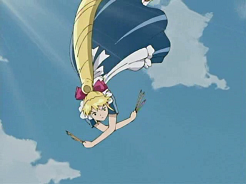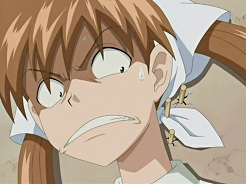 Muteki Kanban Musume is a comedy-anime. And a pretty successful one as well. Where most other comedies fail, this anime actually dos things right. The story follows Onimaru Miki. She's a 20-year old girl who works as a waitress at her mother's ramen restaurant. The only problem is that she's an extremely violent girl. She likes to randomly attack people whenever she sees the chance, which doesn't really make her the perfect employee. Apart from that, whenever she messes up, her mother smacks her knock-out, she keeps getting bothered by a sadistic girl who works across the street in a baker-shop and seems to have some kind of grudge against her, and by a hyperactive guy who keeps challenging her, only to lose after one hit.
I think that the biggest problem with this anime is that it takes a few episodes to get used to the characters. Not that that's a bad thing, but it will drive potential watchers away. Still, the fact remains that most of the jokes used in this anime are character-based. You need to know the characters a bit for the jokes to really become effective. But once you're familiarized with the characters, this show picks up steam, and delivers hilarious scenes.
The characters work very well with each other. It's not like each character is extremely violent either. Right next to the ramen restaurant Miki works is a vegetable shop. In there, another main character works, who isn't good with fighting at all. He offers a more sarcastic look at things. And there are more non-violent characters like these who balance the violent ones very well.
The show consists out of twelve episodes, each divided into two standalone parts. If I had to make a guess, then more than half of these parts worked out very successful, while the others missed the mark a bit (at times, the creators use the same concepts a bit too much, other times, the jokes don't fall well, etc). Still, this is much better than any average comedy can achieve. While it's not the best comedy ever, Muteki Kanban Musume definitely was worth the laughs it provided. I really recommend it if you need something light to laugh at.