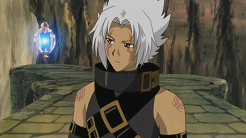 .Hack//Roots is an incredibly difficult anime to review, as this anime is a combination of an interesting view with a trainwreck. It's got so many good points but at the same time, it's got just as many, if not even more, bad points. It uses the same setting we've known from series as .Hack//Sign and .Hack//Dusk: everything in the series happens in an MMORPG, or Massive Multiplayer Online RPG. It doesn't belong to any specific genre. If I had to put it in a category, it would be around the mystery-dramas, though that isn't the most accurate description. This anime is closely related to a game, .Hack//GU.
First of all, let me warn you. If you plan to watch the series, without playing the game, don't. That's what I did, and you can't imagine how many unexplainable events happened. Characters aren't fleshed out enough, things just happen without any reason for this being given, you miss out on a LOT of character background and the ending leaves SO many questions unanswered that it would make even Narutaru jealous.
Another big problem with this series is that at times, it doesn't seem to realize that it's in an MMORPG. .Hack//Sign solved this well, by occasionally showing a mysterious scene about the person behind the computer, but don't expect to see any of these in .Hack//Roots. The characters move way too much like normal people, instead of computer-graphics. Some even go emo, and instead of relieving their stress on some unfortunate object in the real world, they do this in the virtual world.
The third point actually is a nasty side-effect of the first bad point: some of the character are just so incredibly unlikable. Because their background has been left out, some characters now are a bunch of paper bags. Others, who did have a bit of fleshing out also were incredibly annoying to watch at times. Our main character, Haseo, for example. He just roams around The World like a big gorilla for ten episodes until something changes. Another very cool guy also changes into an incredibly plain one.
Okay, enough bad points. Now the good ones. While some characters are horrible, other ones work out greatly. Haseo, for example, when he's not in gorilla-mode. And there are a few more of these gems which are very interesting to watch. Around the halfway-mark of the anime, people actually start quitting the game, giving extra depth to the characters who remained. The final three episodes, also, manage to actually recover from the trainwreck that the previous episodes set, and actually deliver some very strong final episodes. If you ignore the frighteningly huge amount of open ends it left.
This show also excels in the visual and sound department. It probably contained, along with Good Witch of the West and The Third the best graphics of all the shows who aired in the spring-season, and the soundtrack is nothing short from memorable. The background music is also one of the things that managed to bring .Hack//Roots back on track when the final episodes started.