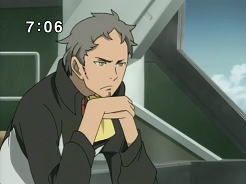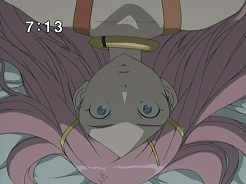 When I saw the first episode of this series, I immediately dismissed it. Every direction pointed to a standard shounen series. Pubescent male, check. Female love interest, check. Sudden huge unexplained outburst of power coming from main character, check. At that time, I saw absolutely no reason to continue this show.
Boy, was I wrong. Thank god I got curious when I saw Maya's entries about the series, and managed to catch up with the series. I'm so glad I did that. Yes, it remains a shounen series. But one heck of an incredibly well developed shounen series. The romance between the main character (Renton) and main female character (Eureka), which I initially gave no chance of success, turned out to be so well developed and fleshed out. This really is a must see for anyone with a bit of patience.
Basically, the series consists out of four part. The first part is the most boring and misleading. It's mostly meant to introduce the cast of characters, and covers about ten episodes. The second part suddenly starts introducing a huge lot of mentally disturbing scenes. Boy, that was a huge surprise. By the end of this part (episode 28) I really was hooked to this anime. The creators made perfect use of the fact that Renton was just an idiotic boy. He just keeps causing troubles to his surroundings, and Eureka as well, because of his naivety.
Then, starting from episode 29, the third part begins, and all of the disturbing scenes just stop, and the series enters a season-long intermezzo. It's mostly meant in order to develop the different characters and flesh them out a bit, with the emphasis on Renton and Eureka, though it may be a pain to get through. Then, at episode 40 the series picks up pace again, and at episode 44, the fourth part of the anime begins, attempting to finish the anime. The fourth part turns amazing again. It fully utilizes the basis that the third part set, and delivers six episodes of pure awesomeness. These episodes were so incredibly sad at times. Unfortunately, the creators had set their mind on an epic ending, which threw this anime into the pit of predictability again, unfortunately.
The second and fourth part make this anime incredibly worthwhile, in their own way. The second part focuses on conflicts, while the fourth part focuses on trust and faith. Emotions skyrocket during the many climaxes and confrontations. Unfortunately, the fact remains that the first and third arc are rather essential for this anime, even though they remain boring. At times, Renton also acts like an annoying brat for comic relief, that wasn't really exciting to see.
The story of this anime, indeed, is one huge adventure. But what else can you expect with a fifty-episode anime? The story focuses around an interesting world, created by the creators of this anime. The plot is very complex and multi-layered, and this anime does a fine job introducing the different elements. Still, there are a few unanswered plotholes left at the end of the episode. Our main character's sudden outburst of power never really gets a decent explanation.
Overall, this anime has great characters. During the right parts, they really shine like no other. If you've got enough time for a 50-episode series, I'm definitely recommending this.