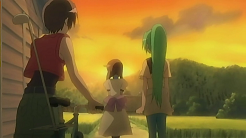 Some reviews are easier to write than others. With Higurashi, it's going to be difficult, though, simply because of the huge contrast between the first and the second season. The fact also remains that this is one of these series that's better than the sum of its parts. First, let me say that if you were interested in the concept of Higurashi, just to see "killer lolis" and cute girls, killing each other, then you will be disappointed. Sure, this is a disturbing series, but Higurashi no Naku Koro ni is so much more than a bunch of random massacres.
The first season is basically one incredibly well-developed mystery-series with lots and I mean lots of horror. Throughout six arcs, you see the different characters, as they discover more and more of the complex, multi-layered plot that forms the foundation of this series, while countless false tracks and red herrings are put on the screen, in order to confuse the viewer. You'll never know who to trust at this point, and the same goes for the characters. There may be a few annoying moments here and there, including some pacing-issues, but overall it's an intense and diverse thriller that keeps you hungry for more amidst the brutality.
And then the second season comes, and it's completely different. The first season went so fast that it often didn't leave any time for quiet moments and character-development; it sometimes went too fast that it nearly tripped, and then the second season comes and fixes this. The pacing continues at a very slow pace, but because of this, there is enough time to flesh out the different characters, to explain everything that need to be said about the story, and to build up for an incredibly solid finale. The characters actually start to realize that their bloodstained hands were a huge mistake, and they try to escape the horror. There's also an incredibly huge emphasis on friendship and trust.
Obviously, the second season is less exciting to watch, but instead, the first season is less heart-warming. The second season is quite slow, while the first season thunders through its storyline to get it finished in time. Obviously, when you look at the individual elements, things feel strange, and for most people, it's going to be hard to get used to the completely new road that the second season went into.
But boy, if you start looking at it from a distance, the entire package becomes so much better. In terms of storytelling, the story is closed off perfectly, even though there still is a third season on the way. It knows exactly how to build up well, and the storytelling for especially the second season has been flawless.
All in all, Higurashi is inconsistent, but it's one heck of a special series. The cast of characters and the setting is definitely memorable, and there are more than enough different moments that make you care about them. Just one piece of advice: when watching episode 17, try not to eat or drink anything. You'll understand when you watch it.