Well, the end of the month couldn't have come at a better time, because it offered me a good opportunity to experiment a bit with my new rating system. What caught my attention is that the average score seems to be lower than usual, but that can also be because this spring-season overall has turned out to be slightly disappointing, compared to other spring-seasons.
#26 (new) – Ikkitousen Great Guardians – (5,5/10) – If I had a dollar for every time I wanted to punch any of the Ikkitousen-characters in the face for being so annoying, then I'd be a rich man.
#25 (23) – Allison to Lillia – (6,75/10) – Admittedly, the train arc is better than the Fiona-arc. But it still baffles me that Allison and Will just went along with the Major and shot a seemingly friendly craft without knowing what was going on.
#24 (16) – Vampire Knight – (7/10) – Well, my interest in Vampire Knight is dying more and more now that it's decided to deal out cheesy plot twists as twins who are out to kill each other. I've got more problems with this series, but I need a full review in order to be able to list them all.
#23 (18) – Toshokan Sensou – (7,25/10) – Toshokan Sensou took a nosedive in its final episodes. The climax didn't work for me at all, the angst was too forced, and the end result was half-baked.
#22 (new) – Chocolate Underground – (7,5/10) – This series is strange, but interestingly enough it's not yet a total trainwreck. I'm really curious to see what this series can get out of only five-minute episodes.
#21 (21) – Code Geass – Lelouch of the Rebellion – (7,5/10) – Aaaaaand the trainwreck has begun. It seems to have started rather early this season: R2 up till now wasn't anything special, but at least it was solid enough. That all ended with the utter cheese that was episode 11 and 12.
#20 (10) – Itazura na Kiss – (7,75/10) – Itazura na Kiss has reached the point where the humour starts getting dull and the characters need to develop in order to make this series interesting again. Let's hope that the creators can pull it off.
#19 (14) – Soul Eater – (8/10) – My biggest problem with Soul Eater is that I'm finding it incredibly hard to find something to recommend it for. Nothing really stands out: the fight scenes are okay, the characters also do their job, the story has potential, but it's been twelve episodes and I still haven't been impressed, other than by this series' style.
#18 (9) – Kurenai – (8/10) – The ending was solid, but there was a surprising amount of writing errors, turning this into the least enjoyable month for Kurenai for me.
#17 (new) – Telepathy Shoujo Ran – (8,25/10) – There's too much angst, but apart from that there's a lot to like in this series: great music, nice slice-of-life, charming characters. Good stuff.
#16 (17) – Macross Frontier – (8,25/10) – Okay, so as it turns out, you do need to have watched the original Macross in order to understand this series, because otherwise some of the plot twists won't make any sense at all. In any case, this series is showing some good signs in the direction of character development.
#15 (6) – Gintama – (8,25/10) – Gintama's back to comedy again. Especially episode 62 was hilarious, and it's pretty amazing that this series has managed to stay funny for 62 episodes.
#14 (19) – Wagaya no Oinarisama – (8,25/10) – It's nothing special, but this series continues to surprise me when it turns much more enjoyable than I would have imagined.
#13 (13) – Junjo Romantica – (8,25/10) – The characters are way too quick to jump into bed with each other, but apart from that, this series delivers, whether it wants to be funny or serious.
#12 (20) – Blassreiter – (8,25/10) – Well, now that thingy and whatsit are dead, this series seems to go back on track, especially episode 12 was surprisingly good compared to the emo-fest of the earlier episodes, but I first want to know what the creators have been planning for the second season before getting excited about this series.
#11 (15) – Chi's Sweet Home – (8,25/10) – This series was about to get dull, and then it came with the beyond awesome episode 41, which entirely changed my opinion of this series. I now understand Karura's fascination with large cats.
#10 (11) – Nijuu Mensou no Musume – (8,25/10)


Okay, so this was clearly a month of building up for Nijuu Mensou no Musume. Ken's changes are rather questionable, but I'm really curious to see where this series is going to evolve to.
#9 (12) – Druaga no Tou – (8,5/10)


This month, Druaga showed its serious colours, and it worked. I didn't expect this series to pull off a successful climax. Well, halfway-climax. Looking forward to the second season.
#8 (8) – RD Sennou Chousashitsu – (8,75/10)


RD continues to be as charming as it's ever been. On top of that, this month has also started to give the major characters some more background
#7 (22) – Persona – Trinity Soul – (8,75/10)


Whoa?! How did this one suddenly turn good? I remember noting that this series wouldn't be able to pull off a good climax… And as it turns out I was wrong.
#6 (2) – Porfy no Nagai Tabi – (8,75/10)


In June, Porfy stopped travelling for a little while in order to stay at Maximilian and his family. This resulted in the quietest month of Porfy ever since the earthquake. It was nice to watch, but nowhere near the highlights of this series.
#5 (7) – Crystal Blaze – (8,75/10)


That was a really strong and solid finish! Crystal Blaze has been wonderfully told from start to finish, without any signs of weakness. Okay, perhaps there's Manami.
#4 (5) – xxxHolic – (9/10)


xxxHolic hit its all-time height and all-time low in the same month, interestingly enough. Kohane's arc was dull, but Himawari's arc was goooooood.
#3 (4) – Amatsuki – (9/10)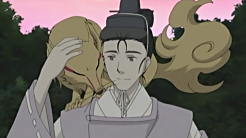 Amatsuki came together in a very strong finale. Now where's that second season?
#2 (3) – Himitsu ~The Revelation~ – (9,25/10)


I love how Himitsu is playing around with its mysteries and morality. I'm really curious as to what this series has in store for its second half.
#1 (1) – Kaiba – (9,25/10)


Urgh… The only bad thing about Kaiba is the fact that it keeps taking these bloody hiatuses. This is no way to treat the best series of the spring season.