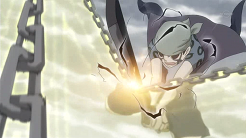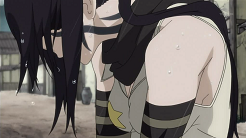 First, I'd like to thank everyone for voting for Star Crossed at the Anime Blog Awards. While it was indeed obvious that Random Curiosity would dominate the category for "Best Episodic Blog", I'm glad to see that I managed to walk away with the bronze award.
Anyway, about Soul Eater: this episode was another one o those building-up episodes. Tsubaki's brother seems to be causing trouble, possessing his victims and forcing them to go on a killing-spree, so Tsubaki goes after him. The next episode should tell us more about why the heck he's ended up doing things like that.
But really, is it me or is Black Star a bit too similar to Naruto? Sad past? Check. Shunned for things that aren't his fault? Check. Acting highly energetic because of this? Check. Stupid haircut/outfit? Check. It's good thing that he's not involved in any rivalry, and his relationship with Tsubaki has done a lot to make up for this. I especially liked how he doesn't seem to care whether Tsubaki uses him for her own goals or not. I'm still not impressed by the fights in this series, but the special bonds between the weapons meisters and their weapons have been getting better and better.