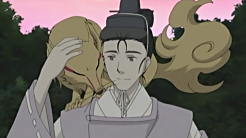 For the past few years, I've been using AniDB to keep track of the anime I've watched. It's got a clean look with a lot of options for statistics, and I especially like how you can assign priorities to the entries in your wishlist, which helps to give a clear overview over my huge to-watch list. Unfortunately, there are enough reasons to dislike AniDB, and recently another one of them got introduced: the tag-system.
The tag-system basically enables visitors to add their own tags to different anime. I'm not complaining about the ones as "action", "lost technology" or "randomness" (although I do wonder what makes these so different from AniDB's category-system). My problem is mainly with the more subjective categories as "Boring", "Utter Crap" and "Emo Fag".
So yes, I'm indeed mentioning this in this particular post because Amatsuki has been labelled as "Utter Crap" by god knows who. Other entries I majorly disagree with are Wellber no Monogatari, Mai Hime and Crystal Blaze (under that same tag), and Ergo Proxy, Flag, Higurashi, Jigoku Shoujo, Voices of a Distant Star, Seirei no Moribito, Evangelion, Trinity Blood and Yokohama Kaidashi Kikou, which have been labelled as "Boring". I also wonder what the category "Emo Fag" really contributes…
My problem with these categories, other than that some of my own favourites are amongst them, is that they do absolutely the opposite of promoting anime. If someone was looking for a show to watch, stumbled upon Crystal blaze, only to find it amongst the utter-crap tag, there'd obviously be a small percentage of him, actually checking it out. I'm perfectly fine if you want to say bad things about a series; heck, that's what stating your opinion is for, but the tag-system is such a ridiculous 4chan-way to do it. It never allows you to state the reasons for having that opinion. Besides, AniDB also has comments, tags and reviews for stating opinions. Heck, I'm still not sure about the difference between all these.
I'm really feeling that AniDB is about to drown into its own features. What's the purpose of the mylist and why isn't it integrated with the vote-system? And there are more of these details that gradually make you unable to see the forest because of all the trees that are in the way. So yeah, if any of you knows a better site to keep track of the anime you watch (besides the obvious myanimelist.net), would you care to share it?
Okay, I've gone off-topic for a bit too long now… Back to this week's episode of Amatsuki. This finally sheds a bit of light on Heihachi's fate. AS it turns out, Tsuyukusa never abandoned him, but instead he saved the guy from being killed by the fox demon. In exchange, he became some sort of servant (?) to the fox-demon. The thing that Bonten did to him in the previous episode was just to read his mind to find out what happened.
I also now finally know the mission that Toki and Kuchiha were going to do: they were going to check up on the guy who cut down the tree that housed the spirit that the fox demon grew up with. It now all makes sense: she was trying to get it back, and because of that rumours of Ayakashi probably started floating around. Now all that's left is to figure out where the heck Tsuruune and Benitobi have gone to.
And oh my god, Toki and Kuchiha are really cute together as a couple. I'm surprised to see that even the romance in this series went well: it's there, but it knows exactly when to appear and disappear.
In any case, yet another great episode. Let's hope that it won't be over in just two episodes.