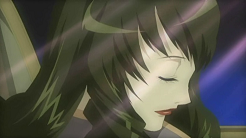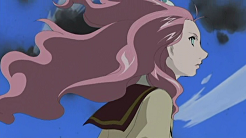 In my more recent reviews, I always tried to classify the anime I reviewed in some kind of genre. Strangely enough, I can't seem to do this with Simoun. There is just not one typical category it fits in. It's got some yuri-romance, it's got action, it's a character study, it deals with heavy themes, it's got all of these tiny elements which somehow form this beautiful result.
I really mean it when I say that Simoun is an awesome anime. Probably one of the best who aired during the spring season. It's mostly because of the characters. These characters are so incredibly fleshed out that as the anime progresses, it's able to invoke their deepest emotions. The anime, however, starts out a bit fragile. The first episode is not necessarily a bad one, but it did turn many viewers away. After this first episode, the anime picks up in a steady pace, already giving the viewer small tastes of the awesomeness which is about to come.
The best of this series appears in episodes 14, 15 and 16. Seriously, at those episodes, this anime will have you clinging to the screen in order not to miss even a single millisecond. These scenes are just too good to be described. Afterwards, the series continues with an excellent average level, until another very good climax comes at episode nineteen and twenty.
From that point, the anime takes an incredibly original turn. It's something only very few anime attempt. The overall theme suddenly gets shifted from the action and tension towards a more thought-provoking one: saying goodbye and living on. A great deal of time is spent on this, in comparison to other anime, and if I have to say so myself, the last episodes give Simoun a very fitting ending.
This anime shines because of its characters. Each and every single one of them is unique. Each has her own struggles, and when you combine these struggles, tensions can rise incredibly high. It's also one of the very few anime who doesn't mess up with the love-theme, and this makes the romance-aspect also one huge success, significantly contributing to the overall mood of the show.
The soundtrack which comes with this anime also is superb. There are certain tracks which will really help bring the best out of the scenes. In the graphical department, this series also shines. Especially with the character design. Each character looks absolutely gorgeous. The battles also are a very nice watch.
Still, like I said, the character-driven episodes are awesome. But they do make the story-driven episodes rather bland in comparison. That's about the only down part of this anime. The characters are far more interesting that the general story behind all of this. That's about the only bad point.