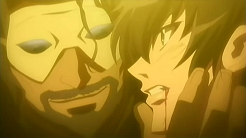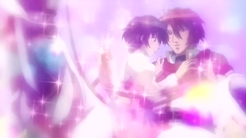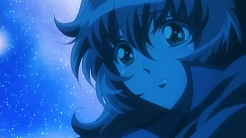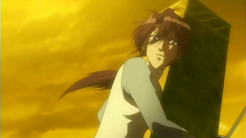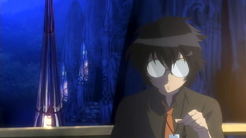 This series also came out, along with the huge wave of new series at the beginning of the spring-2006-season. It's a fantasy-series, embedded with lots of politics, drama and romance. With its 13 episodes, it's a short series. Maybe a bit too short.
This series has two point at which it excels with some incredible quality: the story and the graphics. The graphics really are some of the best to be ever seen in anime. The character art really moves away from the standard-designs, in order to create something really unique. Each of the characters looks really beautiful. The hair has some very interesting shapes, and the CG is very nicely integrated with the regular drawings. It also becomes clear that the creators liked to play with lighting effects, which gives a really good atmosphere to the whole package.
The story also is incredibly well thought out. We've got a lot of different characters, all playing their own, distinct roles. The story's got a lot of facets and elements. Characters have good reasons, and the setting is very creative. The story basically is a battle between three people for the position of the queen. As the story progresses, more elements keep getting added to the story, in order to turn it into a masterpiece.
Unfortunately, this anime also has bad points: the pacing and the storytelling. The story may be great, these two factor mess it up a bit. The fact remains that thirteen episodes is too little for this series. It would so have benefitted from six more episodes. Because it had to squish such a story in only 13 episodes, some elements did get lost. The fact also remains that quite a few time is spent on developing a love-triangle, which, in my opinion, only worked annoying. The last few episodes of the anime, however, these problems disappear and the anime is able to conclude in a very nicely paced ending.
Another thing this anime is very good at is creating tension. The music really helps in this. The anime features a very good soundtrack, which really works at times like these. The action scene also remain in the category of the better ones.
Overall, if you're looking for a fantasy anime with a very good story, I'm certainly recommending this anime. Though this is not an anime you can afford to miss or forget even one second. If you do, the story will immediately make no more sense. Things just aren't explained that well, and it would also be better to marathon this series, instead of watching one episode at a time. The anime remains great, though prepare for its flaws.