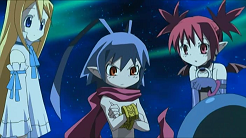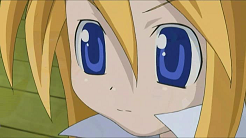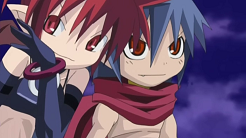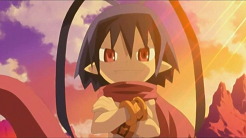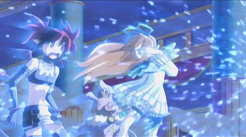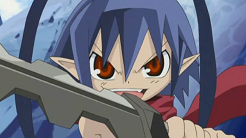 The spring season 2006 began with its ridiculous amount of series which aired. Of course, there had to be a couple of series which got marked by the majority of people as the "worst series of the season". These series were immediately labeled as bad series. In this case, "High School Girls" and "Makai Senki Disgaea" got this title. I haven't seen the former, but does the second one deserve that title?
Absolutely not. The fact that most people seem to forget is that this is a children's show. You will find elements in this show that are meant for children, for example, a male main character who wants to be the demon king and burns people who oppose him to a crisp, and some characters who first appear for a second, only to be blown into the air in a team-rocket fashion because of this. The fact remains, that these events do give this show a character.
If you can not see that this show is a children's show, you probably won't be enjoying yourself during most of the episodes. Does this make it a fact that adults can't watch it? Of course not. Anyone can watch it. All of the characters have personalities who are pretty easy to figure out by children. Though I really noticed after a while that each of the characters has his or her own very enjoyable personality trait. For example, Flonne's incredible fangirling about love, Laharl's disgust of it, Etna's will to depend on Laharl while she actually wants to kill him, et cetera.
Episode 6, 9, 10 and 11 are incredible. In these episodes, all of the characters are really fleshed out, and it works PERFECTLY. The drama works really great. The characters' intentions are shown, everything which happened before in the plot makes total sense, and at those times, you really can't help to feel along with the characters. Not to mention the awesome comedy which was thrown in. The fact that this show is awesome is because of these four episodes.
The comedy thrown in also really works at times. At other times, however, the humor is more directed to children. Luckily, this doesn't happen too often, which results in some very hilarious situations.
The voice-acting is just awesome. The creators managed to find the perfect voices for some of the characters. Especially Flonne. When she's raving, you can really hear that her voice-actor is giving the best she has. Etna also sounds great, just as Laharl and the other characters. The OST is surprisingly interesting. It's nothing special, though it does contain some breath-taking tunes, which really contribute to the scenes they're played in.
The character-design looks great, though the animation might look a bit inconsistent at times. The background art makes totally up for this, though. Every outside scenery looks just stunning. And not to mention the CG. Where the character animation is falling, the CG is really shining in this anime. Especially near the end, it begins to look more impressive by the minute.
Overall, I'm recommending Disgaea to anyone who has a bit of patience. The first couple of episodes may seem a bit dull, though it soon becomes clear that these episodes were actually used to build up for the awesomeness which follows in the later episodes.