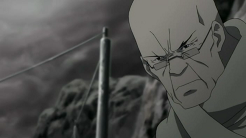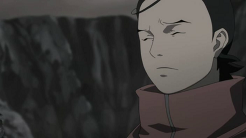 Ergo Proxy is a science-fiction series with a healthy dose of mystery and action. It's set in a post-apocalyptic world, in which the regular earth has become uninhabitable. The only places where people can live is in certain air-tight domes. This story begins in one of these domes: Romdeau. It's a highly controlled society, which believes that each citizen should get as less freedom as possible, in order to become the perfect citizen.
Ergo Proxy definitely is an incredibly unique series. This mostly lies in the way the plot is written. Especially the middle episodes really play games with your mind. Complex dialogues and monologues occur often, with awesome effects. Some episodes definitely are huge roller-coaster rides, almost without any slow moments. These kinds of episodes really were great to see, and I definitely recommend them. They were also very thought-provoking, dealing with issues as philosophy and psychology.
The show also has a cast of very interesting characters. Ranging from a tough, realistic woman to a small, "android" (or Autorave, as they call it in the anime) girl. The anime starts out full of mysteries and vague references. don't expect to understand anything of the story for the first three episodes. Then, the pacing dies down a bit, and things can get a bit explained. After that point, things pick up again, and the series starts to become episodic, featuring a fight between two characters on every episode. The great thing is that these characters don't fight the standard way. Each clash between characters is full of originality. Most of them prefer to use mind games, and we even have one character who kills his victims off by using a fully fledged game-show.
The mystery-part works very well in the early episodes. For almost every episode, new questions get introduced. Still, as the series progresses it makes the mistake to introduce more questions than it can take, resulting in a lot of unanswered questions at the end of the series. I've finished this series now, and almost half of the mysteries of this show still remain mysteries. The episodic nature of the second half of the show also takes its toll, especially on the later episodes. For some reason, these seem to have lost the extra touch that the first two thirds of the anime did have. The first half of this series definitely was the better half.
The graphics are also a feast for the eyes. The animations is so incredibly fluid, the character designs look very appealing, though not over the top, the CG has been very well integrated with the rest of the graphics and the background music also delivers.
Overall, Ergo Proxy has been incredibly fun to watch. It's got its flaws, though the brilliant plotwriting definitely made up for it. If you're looking for a series which will make you think, this is the one you should go for.